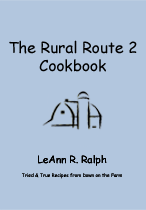 When I was growing up on our small family dairy farm in west central Wisconsin 40 years ago, my dad – like most farmers I knew – worked from sunup to sunset. He didn't want fancy food. He wanted good food. And lots of it.
The Rural Route 2 Cookbook is a collection of recipes from my mother, some recipes are my sister's, and some are recipes that I have used over the past 30 years and have modified until they turn out the way I want them to.
My mother used to say she could not figure out how he could eat so much and not gain any weight. The truth, of course, is that Dad – worked much too hard for the calories to catch up with him!
The Rural Route 2 Cookbook Recipe sections include:

Beverages
Breads, Muffins and Cinnamon Rolls
Cakes, Pies and Desserts
Candy
Casseroles and Main Dishes
Cookies and Bars
Jams, Jellies, Pickles
Miscellaneous
Norwegian
Salads
Vegetables
I like all the recipes in this cookbook, but my extra-special favorite recipes are Homemade Cinnamon Rolls (in 2 hours or less!), Shamrock Cookies, Double Chocolate Easter Bunny Cake, Lefse and Marshmallow Fudge.
LeAnn R. Ralph